Awesome Wales
UX Design | Brand Strategy | E-Commerce Website
The challenge
For this project, we were tasked with the challenge or redesigning an e-commerce site of a small business which has poor branding and organisation.
The opportunity
Being passionate about sustainability, I chose to look at Awesome Wales; a zero waste shop and social enterprise. They are a great small business that does a lot for their local community but I've always felt the website is difficult to navigate, has inconsistent branding and doesn't reflect the community-driven & inspiring nature of the shop.
Who and how long?
Solo project

4 weeks (part-time)
How did we get here though?
12
Blue Light Related Headaches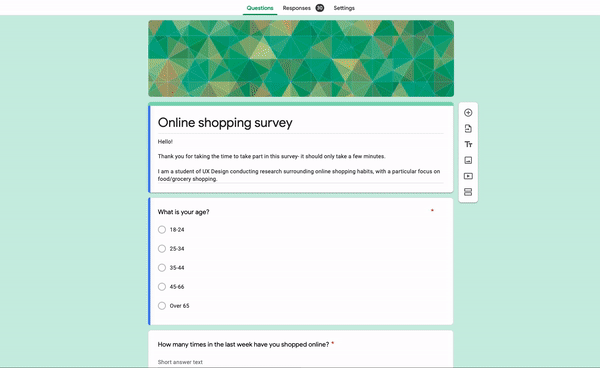 Surveys
I gained 30 responses from a screener survey surrounding online shopping habits and zero waste shopping. It helped me discover initial insights and recruit users to speak to about online shopping and shopping zero waste.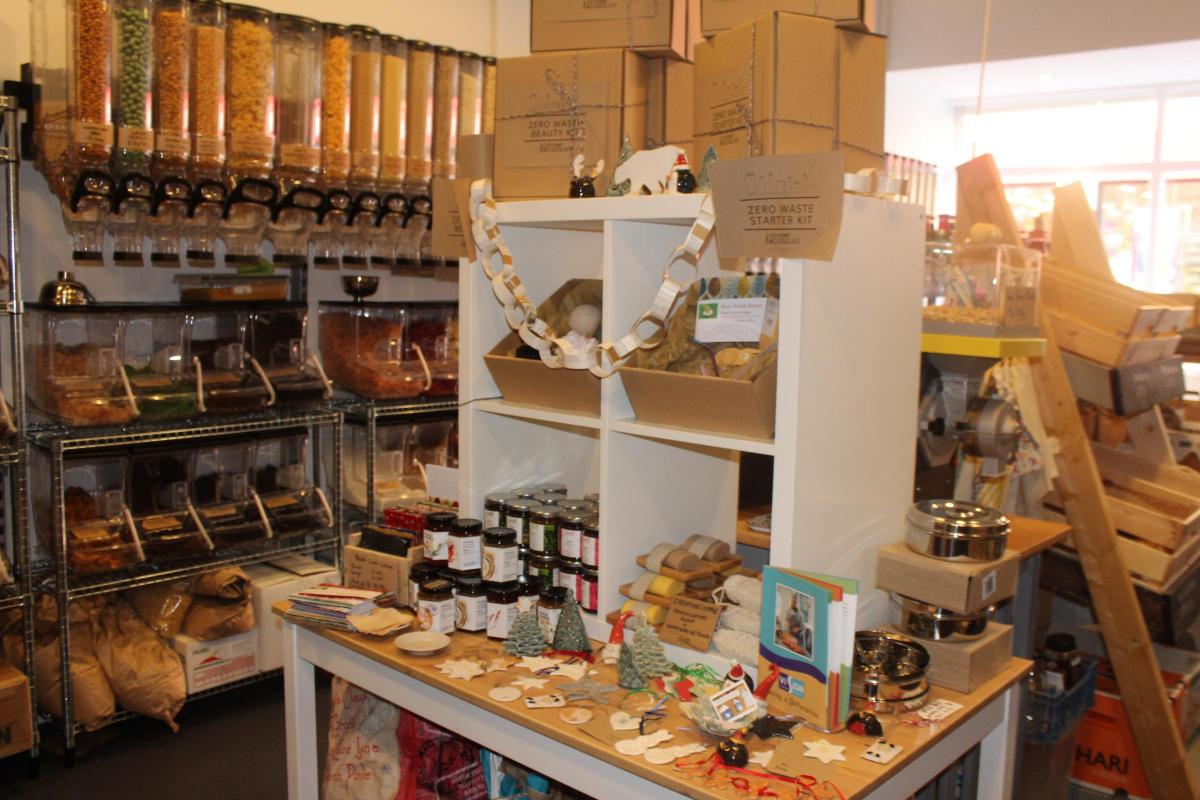 Contextual Inquiry
From doing some contextual inquiry in the actual shop, I was able to discover real life interactions in the shop. I could see the user in action; how they move and utilised the space in real time.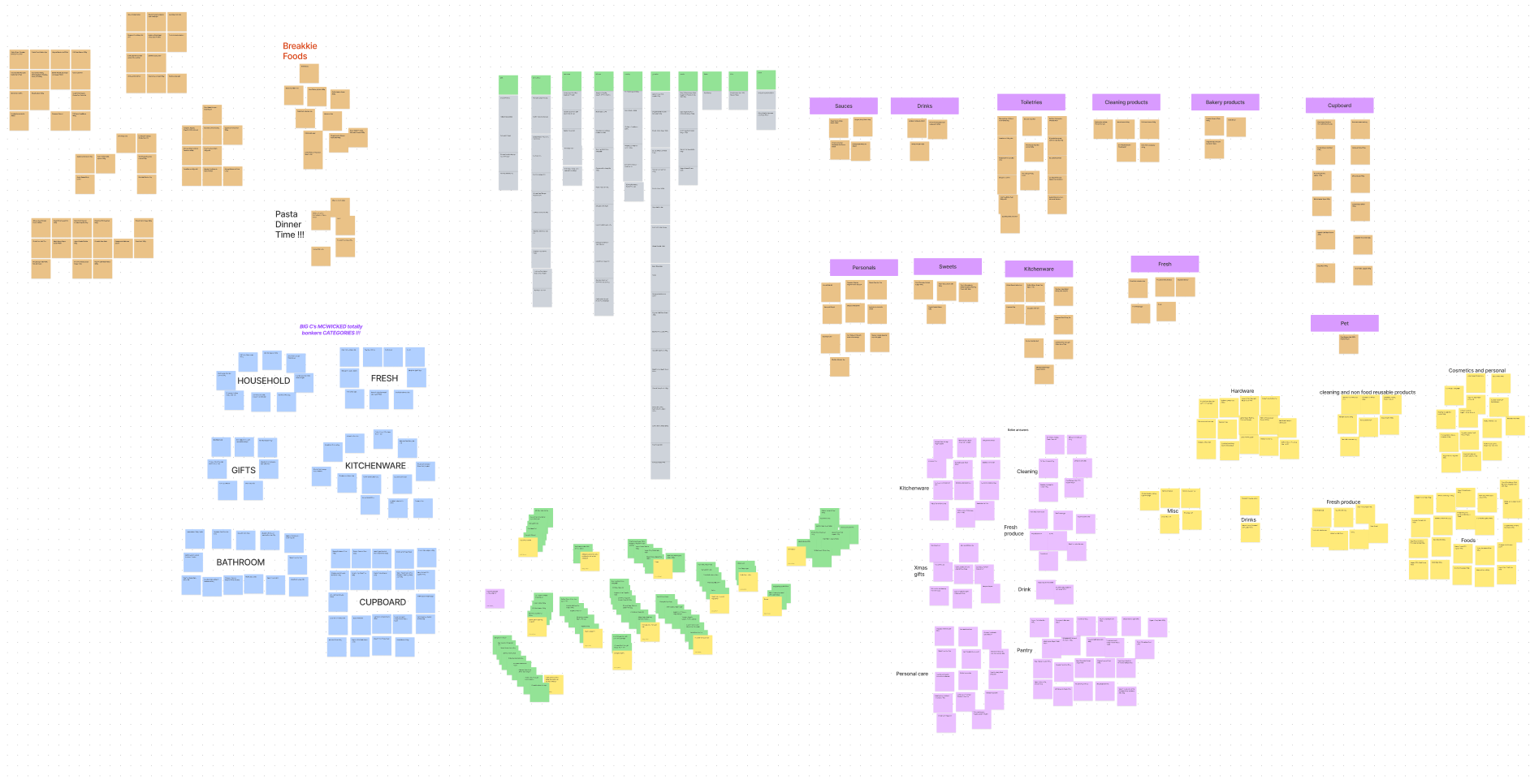 Card Sort
I conducted an open card sorting on a FigJam file with 7 people, including 70 products taken from Awesome Wales' website. I found gathering these results really interesting as it helped me understand what users expected when it came to locating these items. I conducted 7 interviews in total, of which all those interviewed had shopped in a zero waste store at least once. To synthesise responses into key themes and findings, I created an affinity map. This meant I could better understand the user's needs, habits and pain points, which would be the focus of defining our problem.
Key findings were as follows:
Buying locally and organically is important to me.
'I buy organic where possible because I think it's better for me and the planet'
The visual element of shopping is important to me.
'I like walking around and seeing the ingredients'
I enjoy buying food at a zero waste shop because of the concept of using less plastic and the process.
'You leave home with empty jars and you come back and everything is full… there's something really satisfying about that'
Food shopping is an enjoyable experience for me.
'Shopping in a nicer shop can be more of a part of your day out… it's enjoyable and gives you an excuse to get out'
Personas
With this good basis on who our user is and what problem they face, it was time to formulate this into a persona.
Ladies and Gentlemen, welcome to the stage... Jake: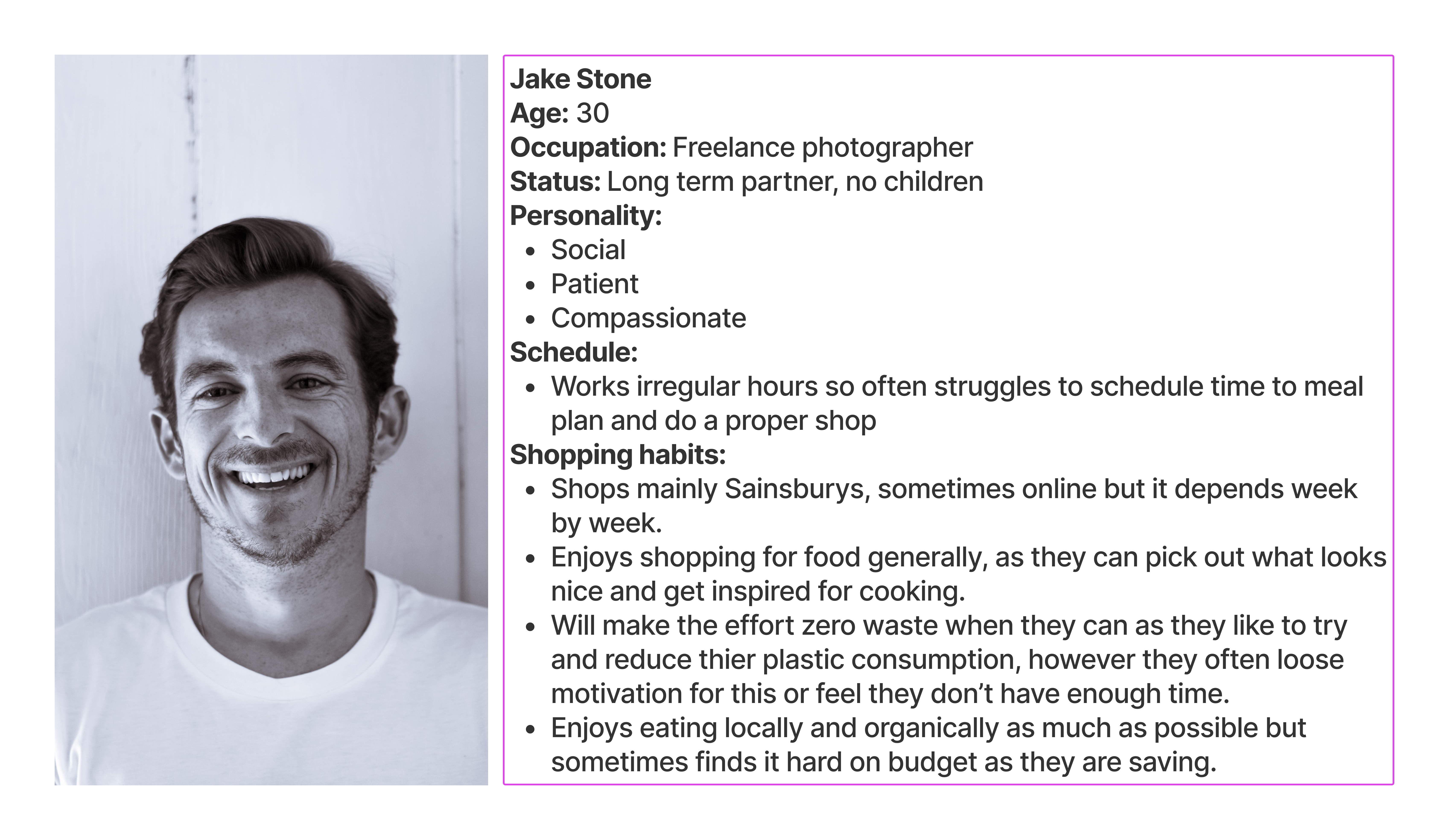 Problem Statement
"Jake needs to find a way to stay motivated to use less plastics, whilst also shopping for his local and organic food products."
How Might We...
…create an online shopping experience which allows Jake to feel motivated to live a more plastic free life?

…make it easier for Jake to buy more local and organic ingredients?

…create a seamless online shopping experience which keeps Jake motivated to continue shopping zero-waste? Competitor Analysis
To understand the current market in more depth I decided to do some competitive analysis. More specifically I conducted a task analysis of ordering on 3 other zero-waste shops and Tesco, this gave me a good idea of the current ordering process for most zero-waste supermarkets, noting any areas to improve or any areas of inspiration.
I also conducted a quick Plus/Delta graph of the 4 sites so I got an even more thorough knowledge of the current market.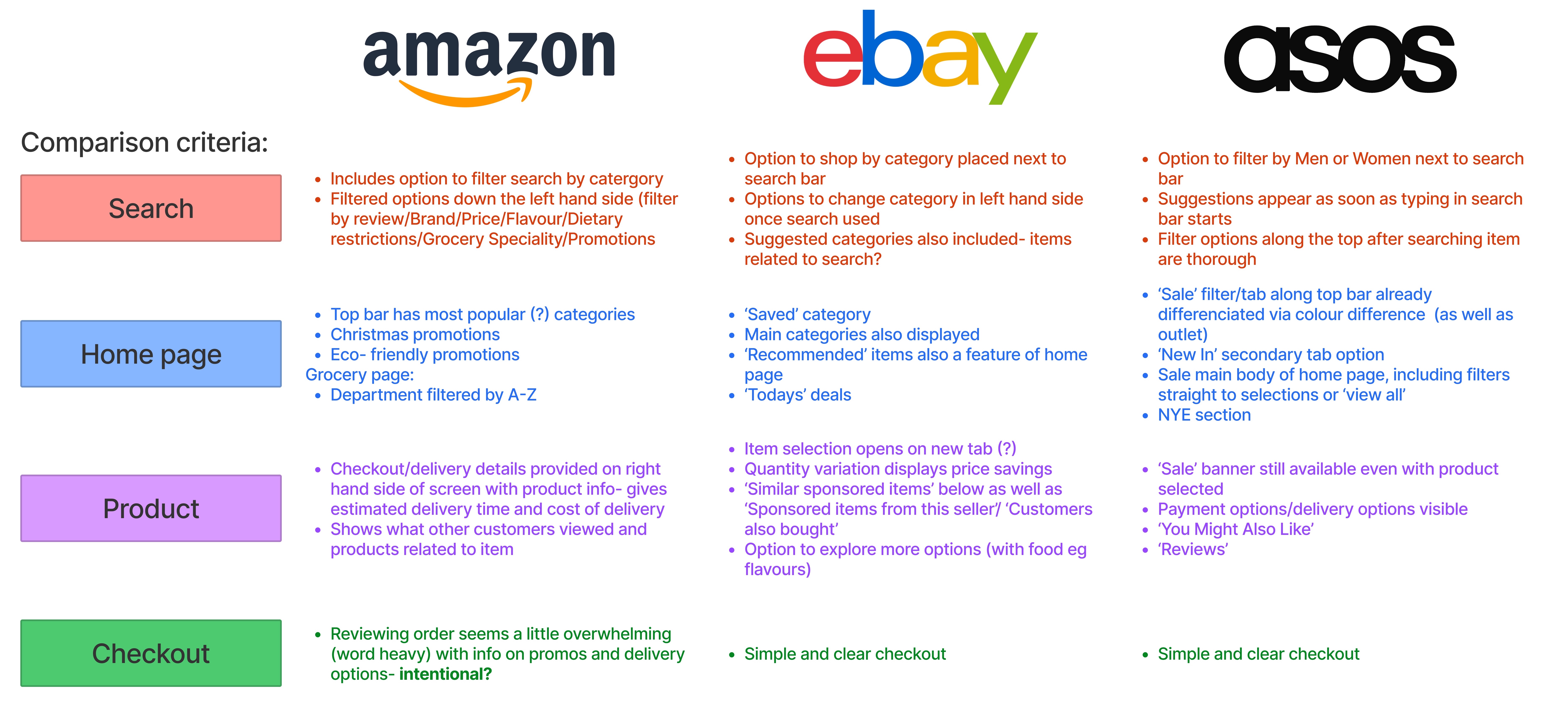 Comparative Analysis
I also conducted a quick analysis on the 3 biggest e-commerce sites in the UK to understand and better familiarise myself with their processes better.
Moodboard and Initial Sketches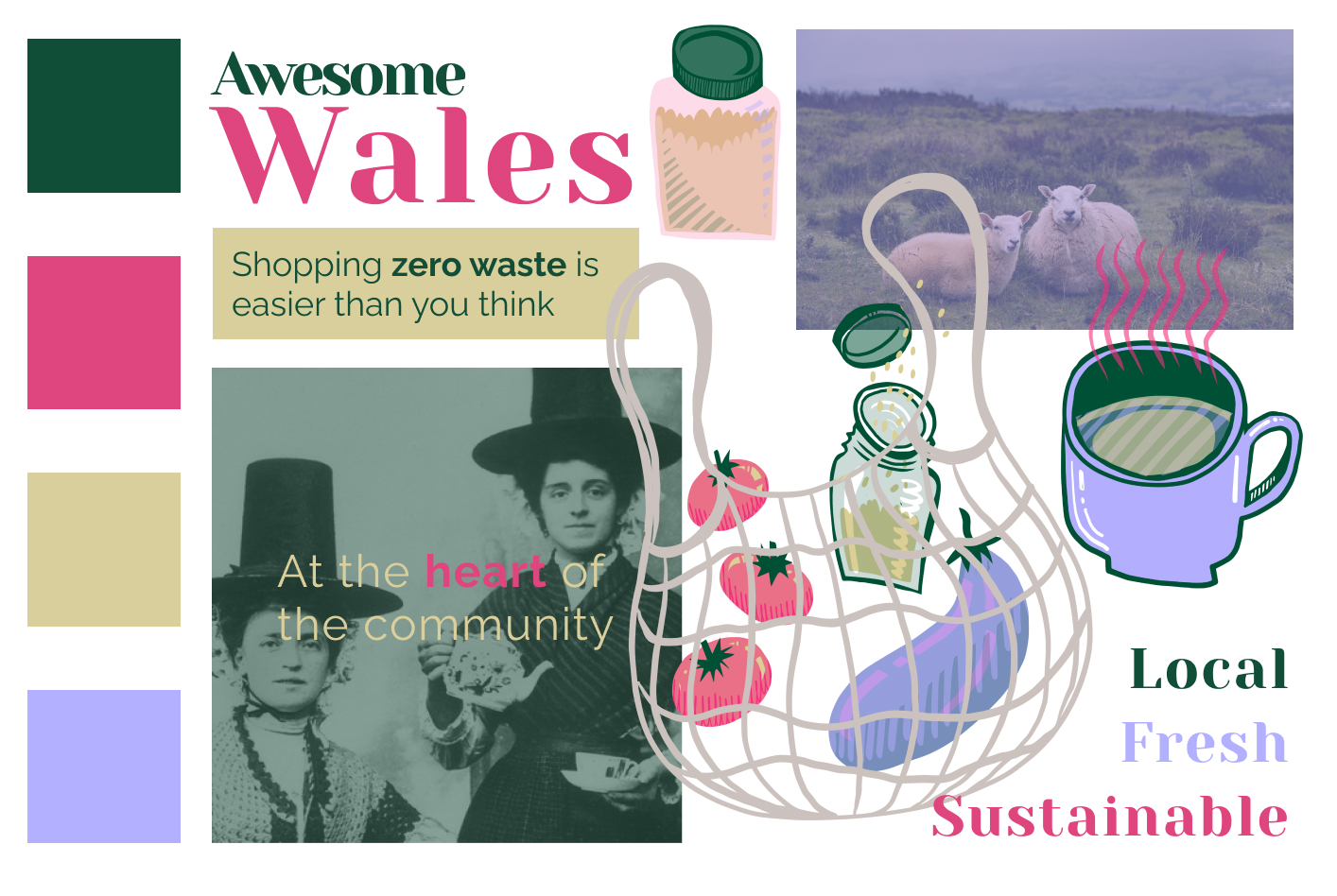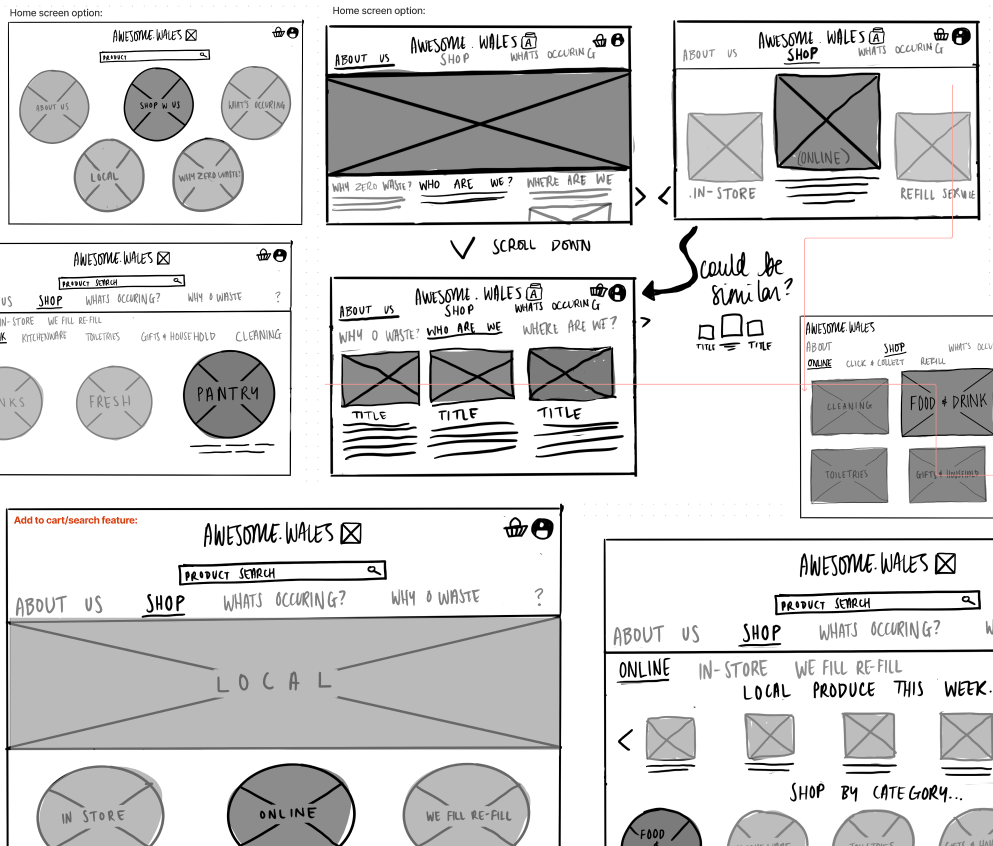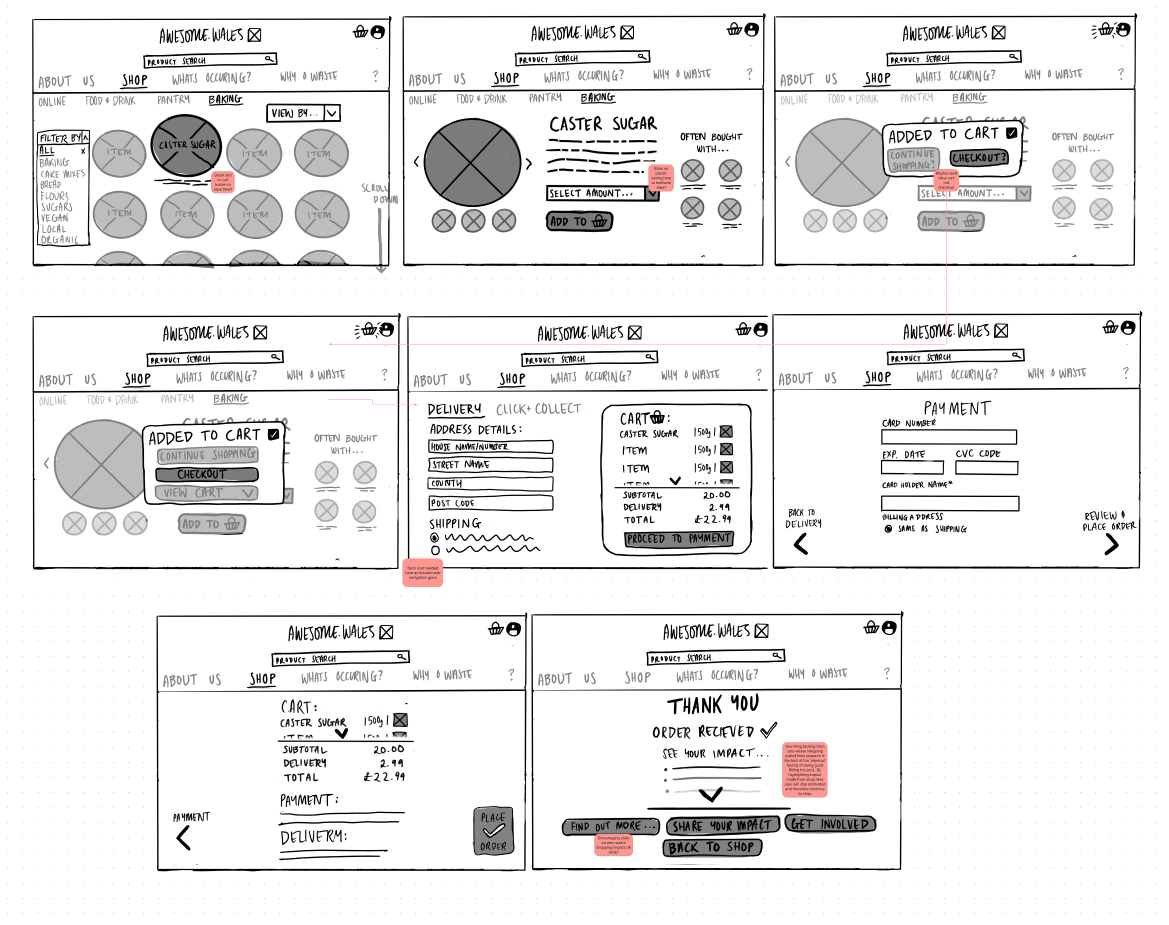 Usability Testing
I conducted 4 moderated usability tests with this prototype. Key takeaways to take forward into the next prototype were as follows:
All users found the categories intuitive and clear

75% were intrigued by the 'Local' banner on the homepage and mentioned they liked the idea of shopping in this way.

50% felt they would go straight to the search bar, particularly in the pantry section where the most items are.

All of users expected to get navigated back to the previous page when 'Continue Shopping' was selected from the checkout, rather than back to the online shopping page.

All felt motivated by the ending message on the impact of the shop after placing the order.
Next steps...
Accessibility checks:
Most importantly, and the biggest learning for me at this stage of the project is to consider accessibility. The design of text over image is engaging in some respects but reflecting on this design it is not readable as the contrast is not high enough.

Animation:
I was really happy with the concept of having the dispensers, however to really make this come alive I envisioned incorporating animation when you add this item to your cart. My Figma skills aren't quite there yet but they will be!

Develop 'Local' page:
Next on the priority of pages would be the 'Local' page. This is critical for Jake and his healthy food buying habits!
And of course…
Test, test and test some more!
Reflections and Learnings
Not only did I enjoy this project and am proud of the feedback I received on the creativity of the design, specifically on how I approached replicating the in-store experience for Jake. I also found card sorting to be a really dynamic and engaging process for discovering and delving into how others categorise and organise.
However this project was also challenging for me, as a shopping zero-waste shopper myself I had to practise not letting personal bias control design decisions. I constantly was making sure I was implementing iterations and decisions based on findings and feedback I had collected rather than my own feelings and desires.
Furthermore, my biggest learning was that accessibility is really something that must be considered from the very start of the design process, both in an ethical and a business sense.