Blinkist
UX Design | Mobile App Feature
The client
Launched in 2012, Blinkist is a micro-learning and nonfiction book summary app. As well as holding a library of informative and educational podcasts, the app is predominantly known for it's 'Blinks'; short 10–30 minute audio summaries outlining the key points of the non-fiction books, that aim to help users learn more in less time.
The challenge
There is potential to create a feature in which users could continue their learning after completing Blinks, by engaging with others within the Blinkist community.
The opportunity
An opportunity for users to further their commitment to building a product which changes people's lives for the better.
Who and how long?
Group of 4: Myself (duh), Amanda Thompson, Natasha Driver, Zsofi Gschwendtner

Roles in which I took the lead in were the competitive analysis, conducting interviews and the prototyping.

4 weeks part-time, as we completed this project alongside working our day jobs.
16
Midnight Figma & Wine Sessions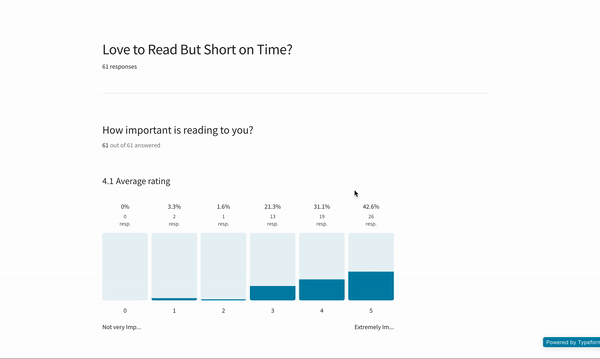 Survey
By conducting a screener survey, we were able to find potential interviewees, whilst also understanding some basic initial reading habits of Blinkist and non Blinkist users.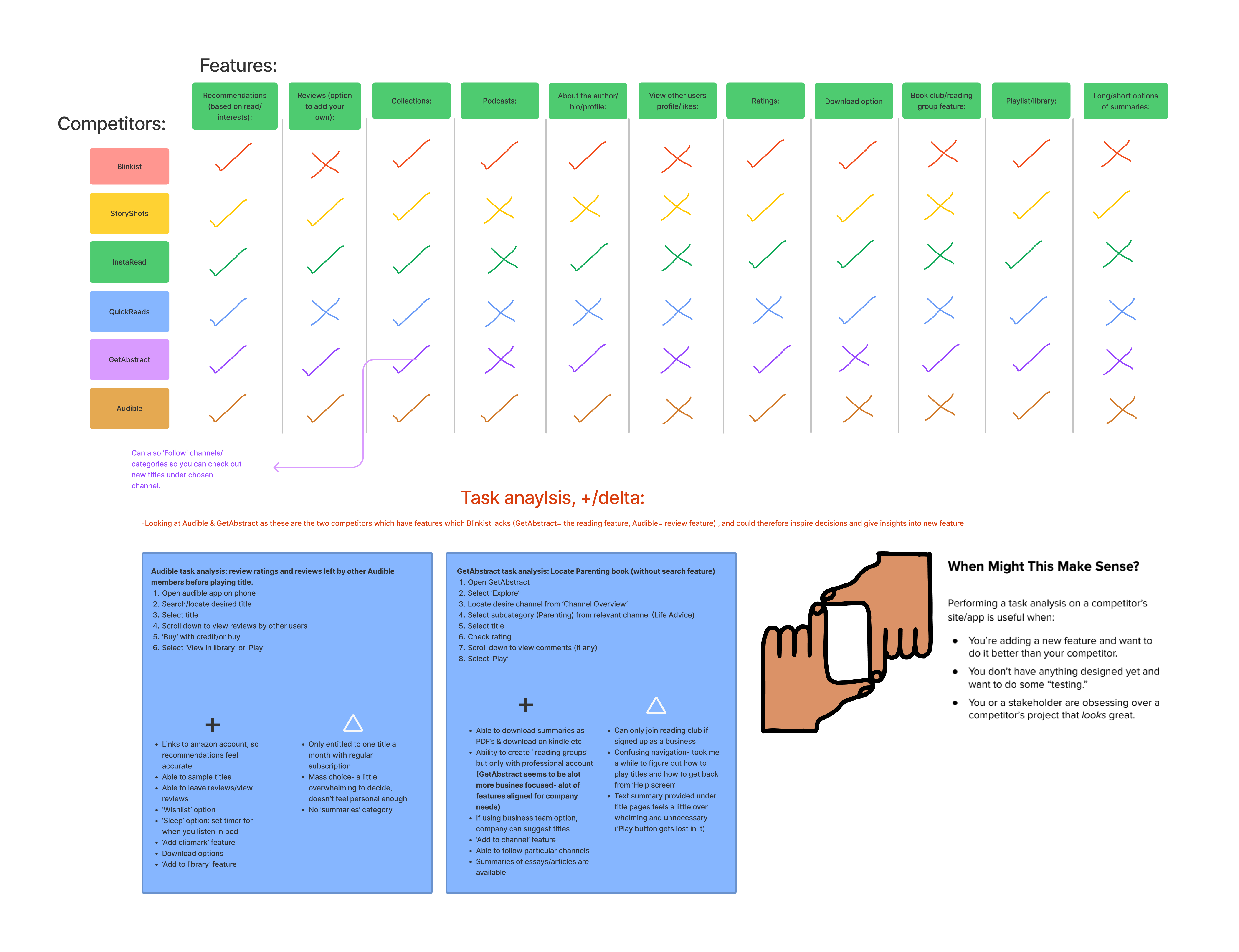 Competitor Analysis
I conducted a competitor analysis. This consisted of a feature inventory of similar apps on the market, and a task analysis of GetAbstract and Audible, who are Blinkist's two biggest competitors.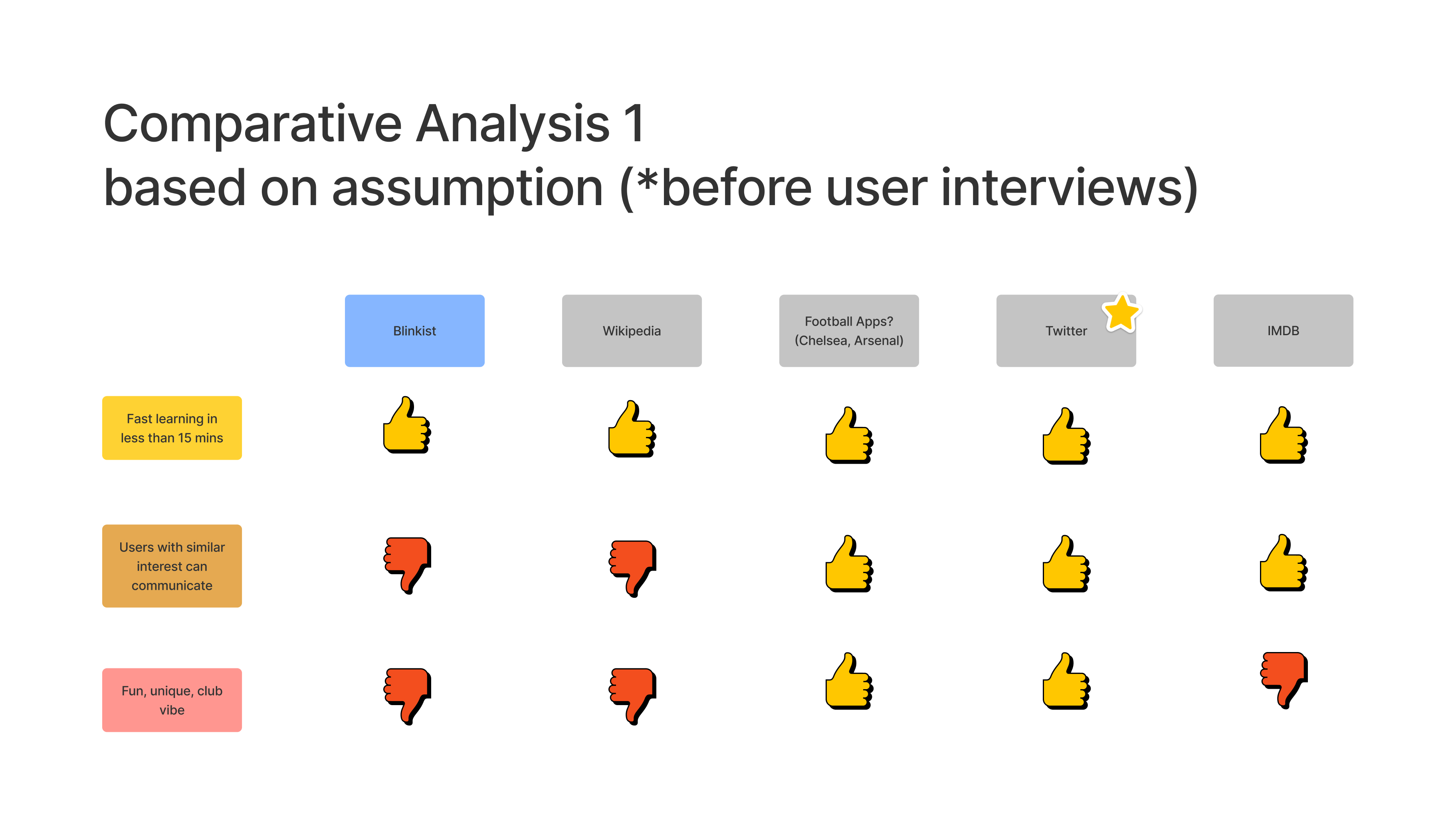 Comparative Analysis
Zsofi conducted a comparator analysis with Wikipedia, Football Club Apps, Twitter an IMDB, in order to look at how they facilitate a sense of learning and community. We interviewed 10 book loving people in total, 8 of which were not Blinkist users and 2 of which were. I conducted 3 of the interviews and took the notes for another 3 of them.
These key findings are as follows:
People interviewed thoroughly disliked the idea of a book club, yet are passionate about sharing and discussing books with friends or family.

People interviewed read via recommendation

People interviewed are short on time.
And finally a summary of all the interviews, that we found important to remember:
Reading is emotional, and users tap into that when considering what to read.
Persona Party
We created 2 persona's to summarise our interview findings and highlight key desires and pain points of our users in a focused personalised way.
As we had more data on non Blinkist users, ie Alex, we focused on him as our primary Persona.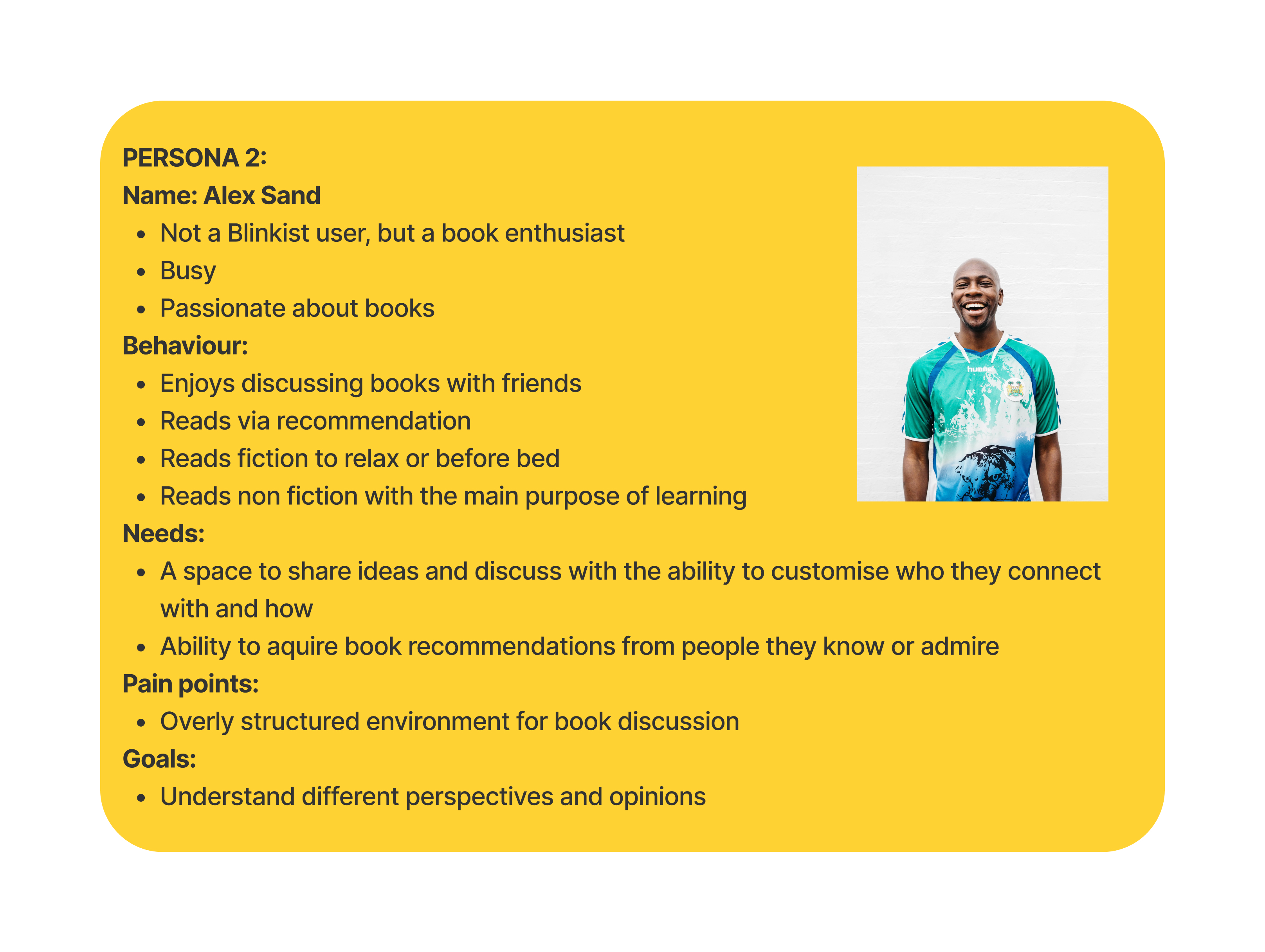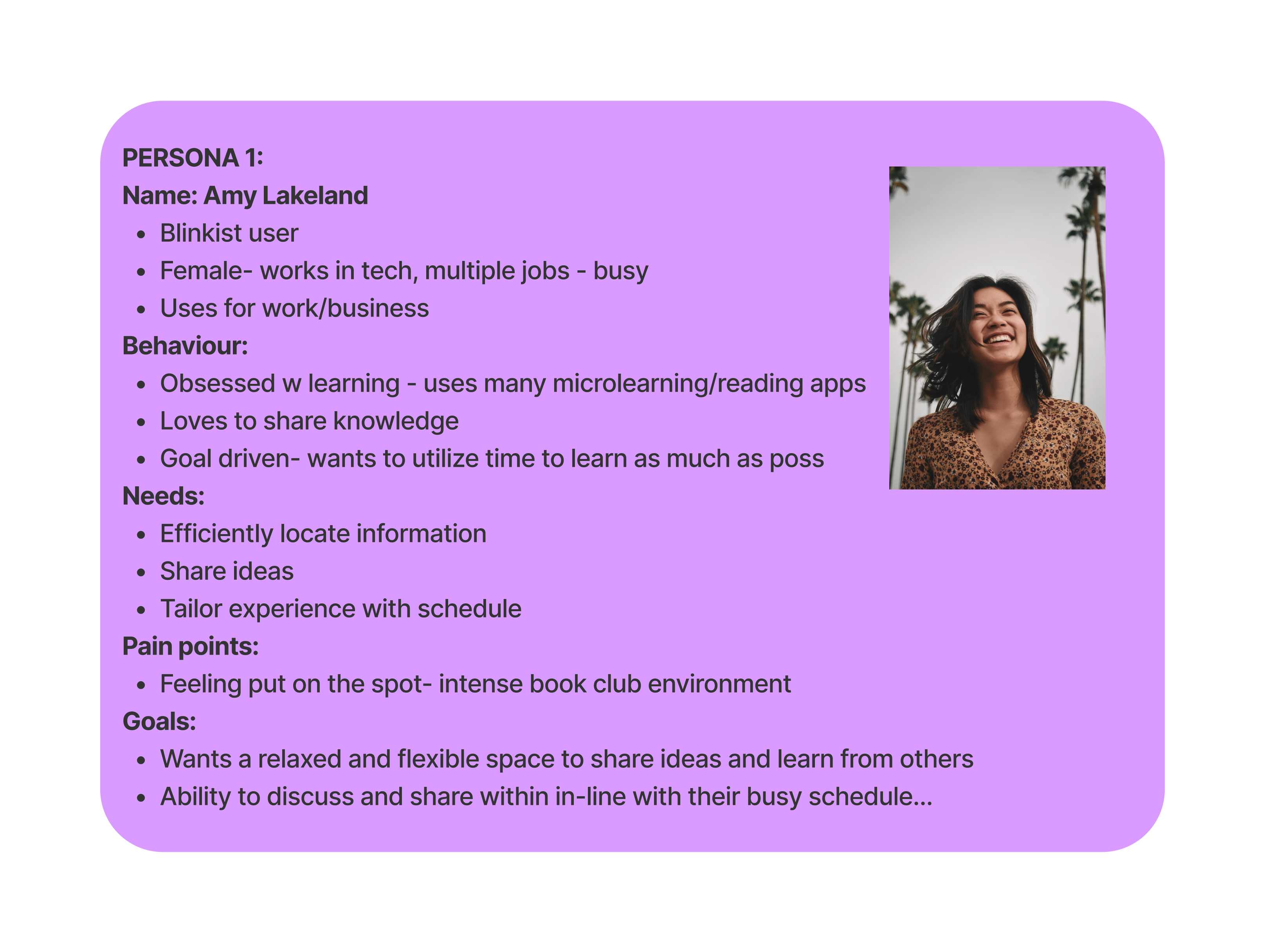 Problem Statement
We summarised Alex's needs and goals into our Problem Statement:
'Alex needs a relaxed environment in which to share ideas, discuss books and gain recommendations from friends and people he admires in order to create meaningful communities to inspire his self development.'
How Might We Statement
We also created a How Might We statement in order to better direct our process and reinforce our motivations:
'How might we deepen the emotional aspect of reading, by creating a space within the Blinkist app, where users can share and discuss books in relevant communities?'
Design Studio
With our problem and How Might We statement at the forefront of all our minds, we were feeling ready to get right into sketching some solutions. To kick us off, we completed a super fun design studio session consisting of a bad idea party, good idea party & crazy 8s.
The main idea we decided to carry forward from this session was a 'Community' page where users can start discussions relating to Blinks, privately or to the whole platform
Sketches
After deciding on this idea as it most aligned with Alex's needs, Zsofi took the lead in sketching some wireframes which Natasha tested with 5 people.
From this quick initial testing, we decided to change the name 'Communities' as it was misleading for users.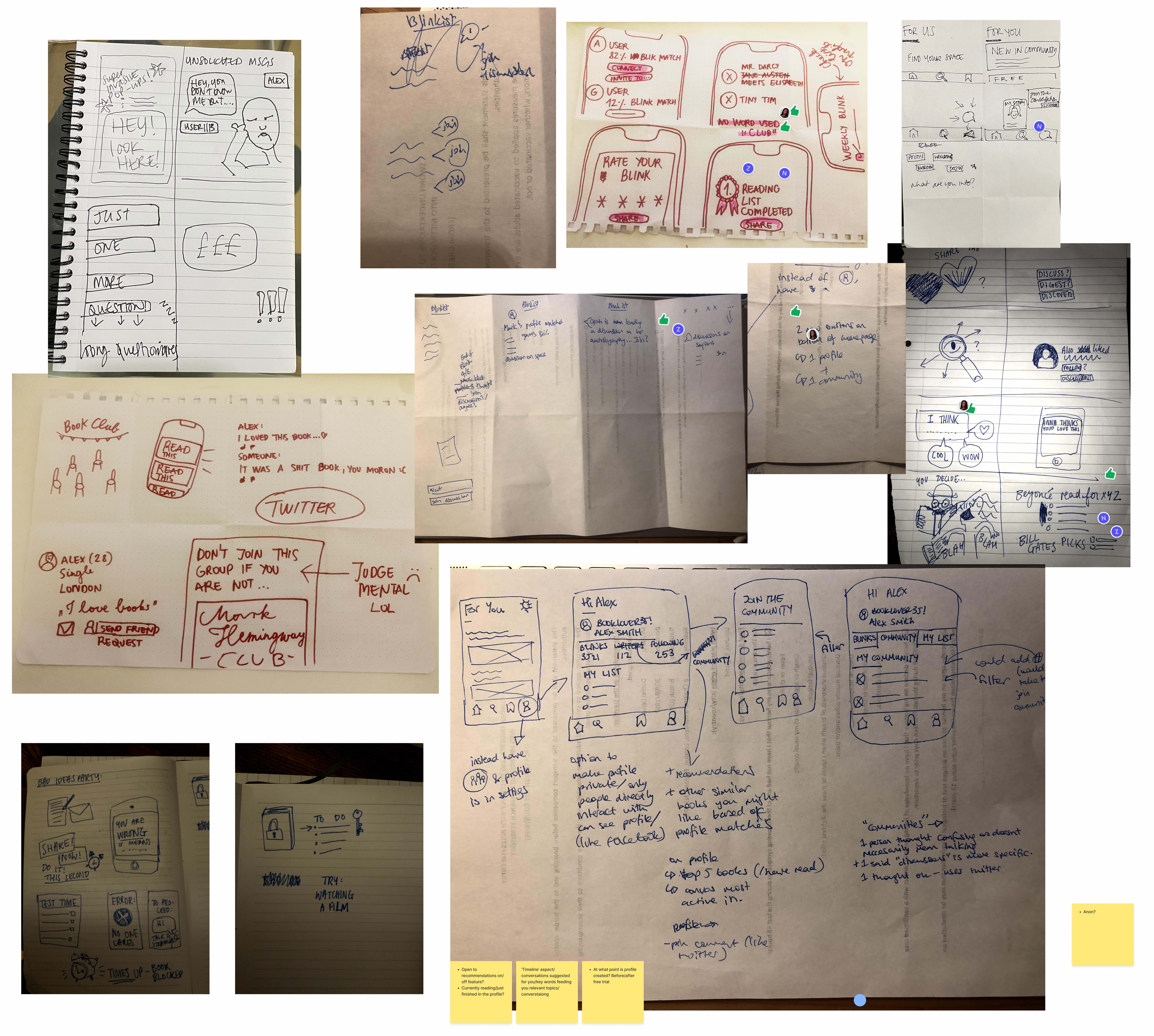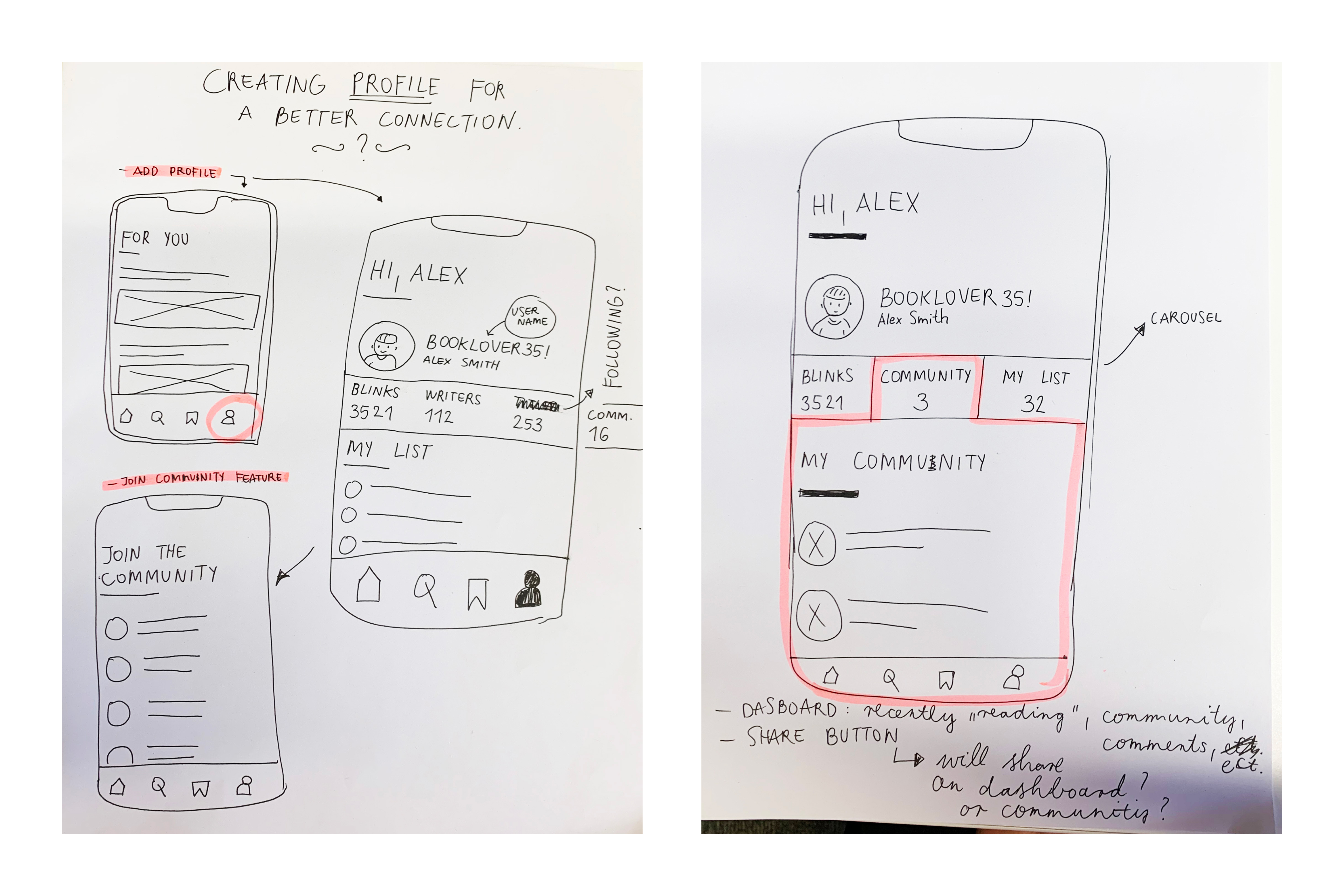 Low Fidelity Prototype and Usability Testing
We conducted usability testing on the wireframes below in a via Maze, with 32 testers. We also conducted 2 moderated usability tests with Blinkist users.
This gave us a lot of insights, of which we implemented into the next prototype.

With this prototype, we conducted 2 moderated usability tests with Blinkist users and 56 unmoderated tests on Maze with this prototype.
These tests presented critical accessibility issues including:
Lack of colour contrast within the buttons/dark back generally.

The size of font, both of which hindered legibility.
As well as this, we gained some increasingly insightful feedback on the name:
We listened to the insights users gave us from the usability testing and implemented it into the prototype shown below.
Next Steps...
Both users mentioned a desire to share their Blinkate discussions & Blinks outside of the app, onto Twitter or Medium. Although a share feature already exists within the app, this finding perhaps suggests the need for a development of it.

1/2 Blinkist users suggested the necessity of setting a time or reminders within the app, in order to achieve learning goals.

More moderated usability testing on the latest prototype.
Reflections & Learnings
This project was really interesting to work on, and it really improved my interviewing skills and experience conducting usability tests. I think we made the right choice by testing often, as it allowed for multiple iterations.
However, I feel this did slow us down, and because of this pace I feel we did not develop the feature to its full potential. In order to avoid this in the future I will be utilising a user flow more specifically, to make sure we have a clear goal and scope of what needs to be designed.
Furthermore, another key learning from this project for me was the practise of not letting our personal biases affect our design decisions. We had a really interesting debate on the ethics of letting someone join the Blinkate anonymously. We solved this roadblock by gaining further data from users through a survey on this question specifically, which reminded us all to put aside our personal feelings toward the subject moving forward.